About Us
Everyday looks better with flowers from
A New Beginning Florist!
We are your local Moore, Oklahoma florist serving the area since 2005. We provide beautiful, premium-quality flowers for events or special occasions. Including all of our designers, we have over 25 years of floral design experience. Our shop offers a lovely variety of fresh flowers, plants, and creative gift ideas such as Sweet Shop Gourmet Truffles, Circle E Candles, Michel Design Works Spa Line, and assorted home decor lines. We love to laugh and keep things fun around the shop. Pranking people is a weekly event around here! Parties and party planning is our favorite hobby, so give us a reason to celebrate and we will throw a party!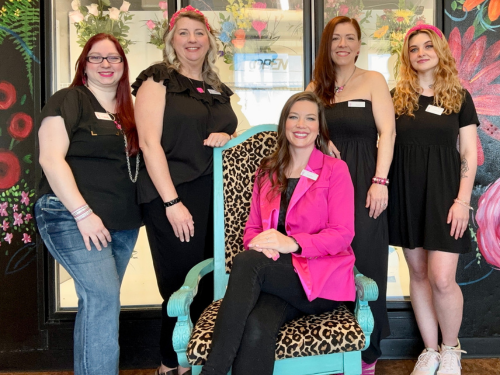 We won Best in Moore & South Oklahoma City for 6 of the past 10 years. We absolutely love our customers and our community. Feel free to stop in and say hello!
MEET OUR STAFF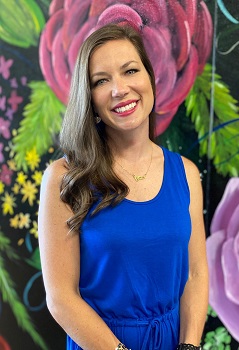 Hey! My name is Jenifer- I'm the proud owner of this amazing establishment. Having been in business since 2005, I've had the pleasure of assisting with all the things life throws at us-weddings, birthdays, anniversaries, times of sympathy, get well and everything in between. My baby girl is the highlight of my life, watching her grow and learn warms my heart and brings a smile to my face. I absolutely love to laugh and pranking people is my specialty. I enjoy all types of flowers, but one of my favorites is Hydrangea. I'm so thankful to Moore and the surrounding communities for their continued support over the years.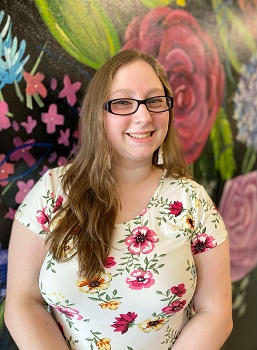 Hello! My name is Casey. As manager, I oversee the day-to-day operations at the flower shop. My favorite season is Spring because that's when all the bulb flowers become available to design with. I am the shop "Glitter Queen" and will add sparkle to any arrangement I can! I come from a large family and grew up in Arkansas, but have called Oklahoma home since 2013. My husband and I have 3 sweet cats, Layla, Dice, and Frankie. I love to bake and cook for friends and family. I look forward to brightening your day with our beautiful designs.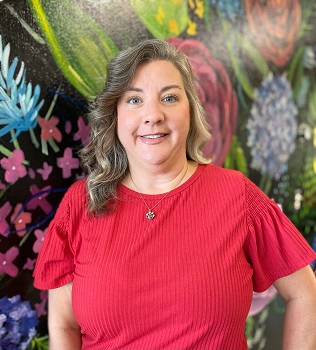 Hi! I'm Holly. AKA the positivity spreader by the girls at the flower shop. When I'm not out delivering smiles you'll find me at the track watching my nephews race or at the lake with my husband Eddie because RV life is the best life! I'm a proud mom of two boys, three bonus kids, and nana to one, so far. My all time favorite flowers are Holly Hocks because they remind me of treasured friendships. Call to order your beautiful arrangements today so I can bring your friends and family smiles too.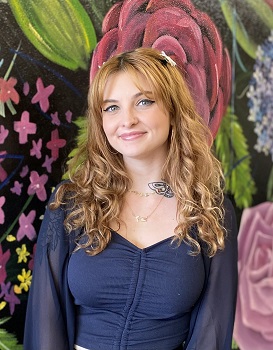 My name is Jordan, but I'm sometimes referred to as Daisy by my friends, because they're my absolute favorite flower! I am a floral designer here and I love it because I'm an artist at heart. In my free time you can find me making pottery, socializing with friends, and spending time with my three beautiful daughters who are the sunshine to my life.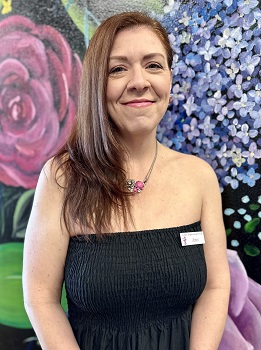 Hiya! Amy here, I'm the creative mind behind all the wild and unique things you see in our floral cooler. Some of my favorite flowers are Thistle and Birds of Paradise-all the bright, spiky shapes. In my free time, my husband and I do all thing crafty and artistic.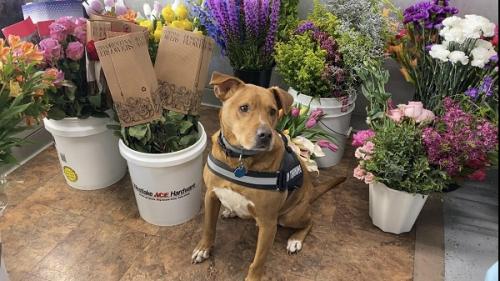 Bow Wow! My mom calls me Squirrel Drake. It's a ruff life at the flower shop. I love greeting customers, getting all the pets and the occasional shared lunch with Claudia and Andie. My favorite flower is anything with a woody stem that my momma lets me chew on. Me and my sister Addy love getting to spend the day at the shop with our mom. If you stop in to see me, my favorite snacks are carrots, apples, and cheese.
We hope you enjoy your online shopping experience with secure 24-hour ordering right at your fingertips.
If preferred, you may call us to place orders direct at 405-799-4492.
Thank you for visiting our website with flowers delivered fresh from your local Moore, OK. flower shop and convenient online ordering 24 hours a day!